Chapter 3
Message Delivery Options:
Protocols are rules that govern communication.
Procol Suites are a set of rules together to solve a problem.
Networking protocols control how...
How the message is formatted.

The process by which networking devices share information about pathways with other networks. (Network cabling)

How and when error and system messages are passed between devices.

The setup and termination of data transfer sessions.
Application Protocol - Hypertext Transfer Protocol (HTTP)

Transport Protocol - Transmission Control Protocol (TCP)

Internet Protocol - Internet Protocol (IP)

Network Access Protocols - Data link / physical layers.
Open Standards means anyone can submit changes to it. Organizations are:
The Internet Society (ISOC)

The Internet Architecture Board (IAB)

Internet Engineering Task Force (IETF)

Electrical & Electronic Engineers (IEEE)
"All People Seem To Need Domino's Pizza"
TCP/IP LAYERS -- Don't confuse w/
OSI MODEL DESCRIPTION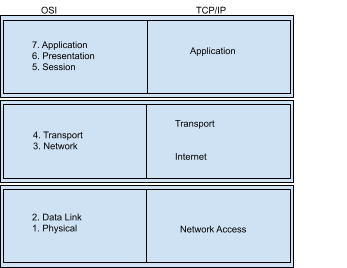 1] Physical: Provides mechanical, electrical, procedural and functional standards to activate, maintain & deactivate connections to and from network devices.
2] Data Link: Provides methods for exchanging data frames over common network media.
MAC addresses are used at this layer.
3] Network: Provides services to exchange the pieces of data over the network between end devices.
IP Addresses are used at this layer. Routers being the most involved in this layer.
4] Transport: Defines services to segment, transfer, & reassemble the data for individual communications between end devices.
5] Session: Provides services and the presentation layer to organize the dialogue and manage data exchange.
6] Presentation: Provides common representation of data transferred between application layer services.
7] Application: Provides the means for end to end connectivity between individuals using the data network.
Communicating Messages - Data Encapsulation
Segmenting Message Benefits

Different conversations can be interleaved

Increased reliability of network communication
Segmenting message disadvantage

Increased level of complexity
Protocol Data Units (PDU)
Network Addresses and Data Link Addresses
| | | | | |
| --- | --- | --- | --- | --- |
| | | | | |
| Timing and synchronization bits. | Destination and source physical addresses. | Destination and source logical network addresses. | Destination and source process number (ports). | Encoded application data. |
Communicating with Devices Over the Same Network
DATA LINK




ETHERNET FRAME HEADER

DATA LINK




ETHERNET FRAME HEADER

NETWORK LAYER IP PACKET HEADER

NETWORK LAYER IP PACKET HEADER

NETWORK LAYER IP PACKET HEADER











ARP: Address Resolution Protocol
Gets the MAC address from the IP address.
For systems on the same network.